A.A Athlete | Meet Rising Tennis Star Priscilla Hon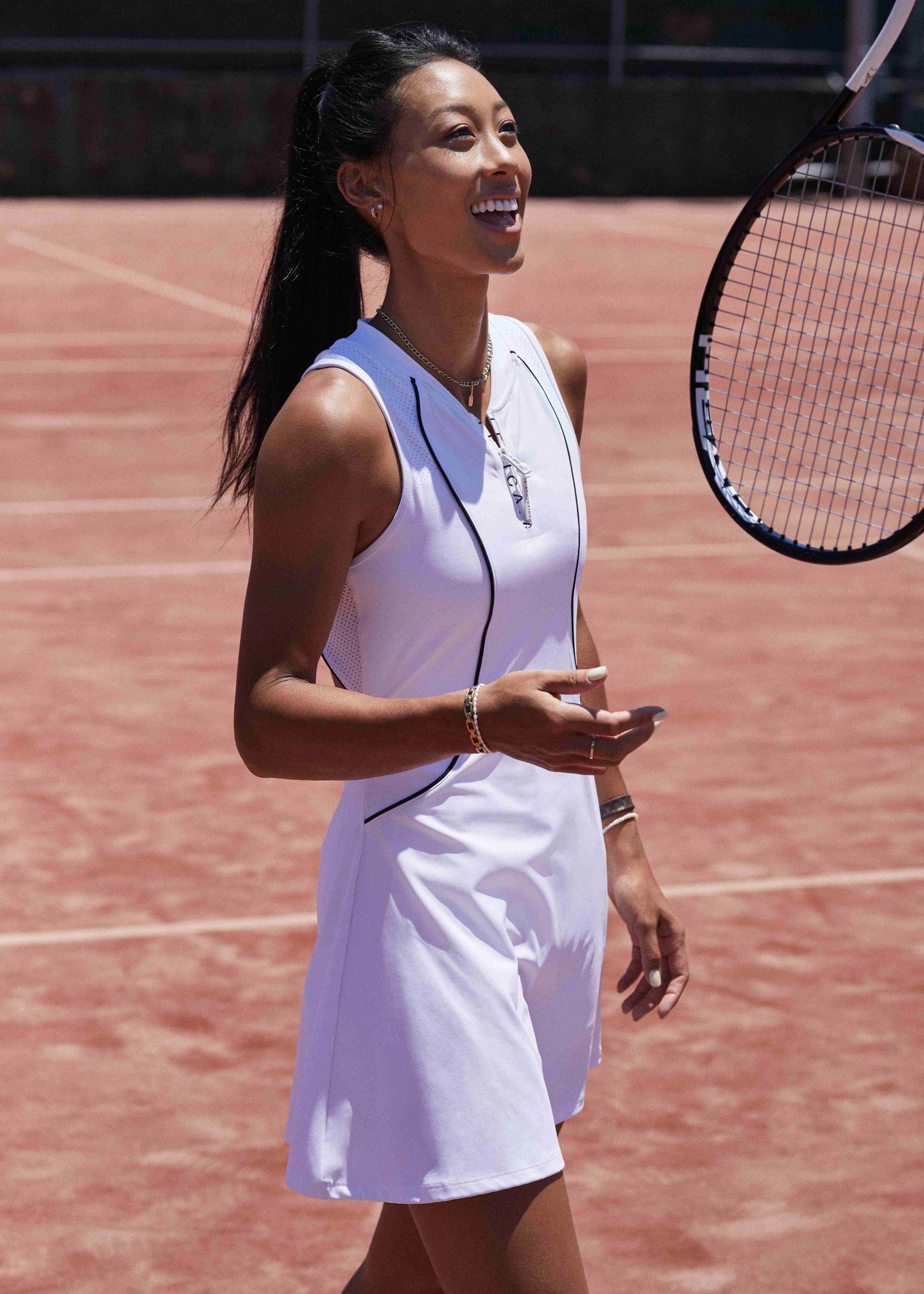 Meet the first-ever A.A Athlete — rising tennis star, Priscilla Hon.
Currently ranked #5 in Australia, the Brisbane-based breakout player turned heads when she defeated two-time Grand Slam title winner Petra Kvitová at 2022 Adelaide International.
Teaming up exclusively with AJE ATHLETICA to take on the 2023 Australian summer circuit, we chat to Priscilla about all things tennis, training and how she stays grounded.
Where did your tennis journey begin, and what are the highlights and challenges that have brought you to where you are today?
I started playing tennis when I was five and started travelling overseas to Europe to compete when I was 12, so my childhood was very different from most other kids.
Being away from home and not seeing family often, and travelling for months living out of a suitcase, has been something I've had to adapt to over the years.
A huge highlight for me is being able to see the world from such a young age and getting to meet so many incredible people. Most of my best friends I've met through tennis and most of them don't even live in Australia.
One of my favourite career highlights will always be when I've been able to be part of the Australian Team at the Billie Jean King Cup. Those weeks will always be very special, and nothing else on the calendar is like it. Tennis has given me such amazing opportunities in life, and I couldn't be more grateful for that.
You have travelled around the world for tennis — where do you call home, how has it been for you being in Australia for Christmas, and where will you be living over the upcoming months?
Home for me is Brisbane, Australia. It's where I was born and grew up. So, Brisbane will always be where I feel the most at home.
What does your training schedule look like for the Australian Open?
Training leading up to the Aussie summer of tournaments is always quite intense. It's one of the few times of the year when we are able to really work on my physical strength and endurance, and I can really push my body.
A normal training day is two to three hours of tennis in the morning, a running or a strength session, and then another hit on some afternoons, six days a week. I leave for tennis at around 7:45 am and get home at about 4:00 pm each day.
What does working with AJE ATHLETICA as your on-court apparel sponsor for The Australian Open mean to you? What initially drew you to the brand?
I was always drawn to Aje; I love the style and quality of their pieces. When AJE ATHLETICA released their apparel, I loved it so much. The simplicity of it all and the touches of little detail all feel very 'me', and it's really exciting to work with A.A on-court.
Do you have any daily rituals that help you to live a balanced life?
Waking up early enough to make sure I don't need to rush breakfast is key. I would happily trade a sleep-in to not rush my morning coffee. When I don't get that time, I feel like I haven't started my day properly.
What practices do you do to stay mindful and keep grounded?
Honestly, I'm still trying to find what exactly works for me. I do really need to switch off from tennis when I'm not training or in competition. Tennis is 90% a mental game, so if I feel like I haven't been able to switch off and hang out with friends, and talk and think about other things, I feel incredibly drained.
Having friends that aren't involved in tennis really helps with that. Travelling almost eight months a year for tennis has indirectly made me a foodie, and on tour, the only time I really get to switch off and explore the city I'm in is at night, so I really treasure those moments and make time to find places to eat that excite me.
What are your favourite types of exercise beyond tennis?
I don't do a whole lot outside of exercise outside of tennis. Tennis is literally 95% of my life, and constantly having to push myself through really tough sessions is part of my everyday.
So, when I don't need to be playing or training, I'm honestly quite lazy. When I'm on holiday, and I actually have to schedule in some type of exercise, I do really enjoy Pilates.
What are your favourite AJE ATHLETICA pieces and why?
The one piece that really stands out is the tennis dress I will be wearing. I've worn a lot of tennis dresses and outfits in my career so far, but nothing is like this one. The design and cut of the dress are incredible. The stitching and details on the dress are impeccable and, most importantly, it is very comfortable and light. This dress will definitely be my all-time favourite I've worn so far playing tennis.
What do you usually look for when you're buying your activewear?
I'm fortunate enough that I haven't had to buy activewear for the years that I've had different sponsors, but one thing I would really look for is that my activewear is comfortable to wear for several hours. I also really like a minimalist look, so for me, less is more.
Explore the latest activewear from AJE ATHLETICA